NEWS
Conveyor Sorting Systems
The global logistics industry has developed an impressive array of hardware designed to automatically sort goods for a customer order or for a specific destination. The problem for Australian companies is that this hardware is almost inevitably...
Our Clients
We have a long list of very happy clients, both large and small. Here is a short list of some of the larger companies that we've done work for:
WAREHOUSING
ALDI Stores
Chrisco
Costco
Pacific Brands
Rheem
Tupperware
Toyota
LOGISTICS
Air Road Distribution
Australia Post
Fedex
TNT
Toll Ipec
FOOD PROCESSING
Baiada Poultry
Inghams Enterprises
PACE Farms
PRIMO Smallgoods
Southern Meats
FOOD & BEVERAGE
Allied Mill
Asahi Beverages
Kelloggs
Ricegrowers
Tooheys
MANUFACTURING
Amatil Coca Cola
Amcor
Dulux
Nissan Casting
Visy Industries
MINING
AngloGold Ashanti
Oz Minerals
Each of these companies presented with a particular challenge, and we delivered customised solutions to meet all of their goals.
Talk to us about your challenges, we'd love the chance to win your business and add your company to this list.

one word... adept
Images
Videos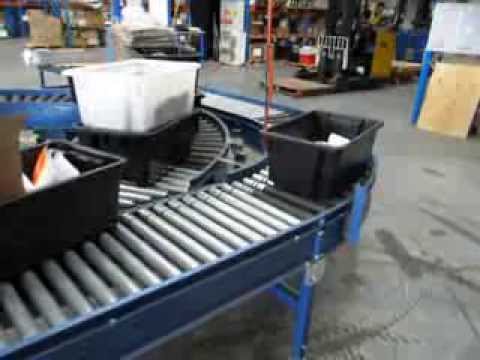 Talk to Us
Line-shaft Driven Conveyors
Line-shaft Driven Roller Conveyors
Line Shaft Driven Conveyors are economical, simple and reliable. Adept is a specialist manufacturer with enormous experience – talk to us for the best advice and a great price.
Line shaft drive uses a single rotating shaft mounted within the conveyor frame, transmitting drive to each roller using belts and friction spools.
Manufactured and designed in Australia
simple robust style
Capable of highly complex configurations
premium quality components
benchmark quality – we make everything twice
the manufacturer advantage: Quality & great price
Extreme reliability and easy maintenance
full range of options, materials and accessories
OVERVIEW
Line shaft conveyors are suitable for transportation of products within warehouse or manufacturing operations where lighter weight cartons, tote bins and other products need to be moved, allowing for a variety of directional changes. Limited minimal pressure accumulation of product can be achieved.
This style of conveying is ideal in warehouse order picking applications or where cartoned product is being transported through a manufacturing process.
Due to the nature of line shaft, one drive can power many metres of conveyor, making it extremely economical.
most economical and adaptable power roller system
Suited to lightweight warehouse or manufacturing
steel, pvc, Polypropelene and Stainless Steel rollers
curves, merges, junctions, gates, cross-overs & turntables
slave drive assemblies, brakes, stops and gates
limited accumulation & buffering
Standard modules available ex-stock
Standard widths: 250mm, 400mm & 550mm
Curves: 30, 45, 60 or 90 degrees, straight or tapered rollers
A full range of support stands
LAST WORD
Talk to Adept Conveyor Technologies about Line Shaft Driven Conveyor systems. We are leading Australian manufacturers with decades of experience. Benchmark quality with full engineering design support for a great price – of course you're going to talk to us.
Line Shaft Driven Roller Conveyors? One word...