NEWS
Conveyor Sorting Systems
The global logistics industry has developed an impressive array of hardware designed to automatically sort goods for a customer order or for a specific destination. The problem for Australian companies is that this hardware is almost inevitably...
Our Clients
We have a long list of very happy clients, both large and small. Here is a short list of some of the larger companies that we've done work for:
WAREHOUSING
ALDI Stores
Chrisco
Costco
Pacific Brands
Rheem
Tupperware
Toyota
LOGISTICS
Air Road Distribution
Australia Post
Fedex
TNT
Toll Ipec
FOOD PROCESSING
Baiada Poultry
Inghams Enterprises
PACE Farms
PRIMO Smallgoods
Southern Meats
FOOD & BEVERAGE
Allied Mill
Asahi Beverages
Kelloggs
Ricegrowers
Tooheys
MANUFACTURING
Amatil Coca Cola
Amcor
Dulux
Nissan Casting
Visy Industries
MINING
AngloGold Ashanti
Oz Minerals
Each of these companies presented with a particular challenge, and we delivered customised solutions to meet all of their goals.
Talk to us about your challenges, we'd love the chance to win your business and add your company to this list.

one word... adept
Images
Videos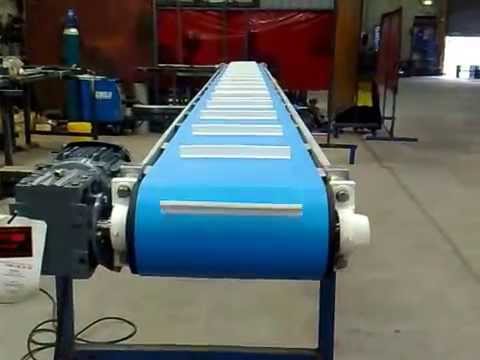 Talk to Us
Food & Beverage Conveyors
Food And Beverage Handling Systems
Adept Conveyor Technologies design and manufacture handling systems specifically for the Food and Beverage industry.
We bring high-level engineering, high quality components and the manufacturer advantage: Competitive prices and fast turnaround.
designed & manufactured in Australia
materials handling experts with decades of experience
The manufacturer advantage: great prices
fast project completion
premium quality components
benchmark fabrication standards: we make it twice
SPECIALIST food and Beverage system engineers
full in-house cad System design & engineering
custom designs for specific client needs
Real Fast Food (And Beverage)
Moving Food and Beverage products through manufacturing, packaging, packing/unpacking, storage or distribution processes and facilities is key to your business. Doing this efficiently, quickly and reliably over the long term is what Adept does best.
Food trays for packaging
Empty carton conveyors & chutes to packing areas
Carton feed & accumulation lines prior to auto palletizing
Tray packing conveyors in production environments & take away conveyors
Poultry & fish processing lines
Confectionary packing & repacking lines
Real Quality: Engineering, Components And Manufacturing
Adept Conveyor Technologies designs the systems for years of trouble-free performance. We use high quality components suitable for Food & Beverage products and packages and assemble every conveyor twice before we deliver it, once before painting/surface treatment and once after.
Systems can consist of gravity and powered conveyors, belt, roller, skate wheel, chain or slat chain. These come with a full array of options including powered or gravity systems, ramps, merges, cross-overs, corners and junctions, accumulation stations, monitoring and measuring equipment and full system control equipment.
When Food and Beverage is your business, Adept is your conveyor system engineer. We will make sure that you get the best system for your commercial needs, at the best price and in a short time.
Food And Beverage Conveyor Systems: The Last Word
Adept is both the system design engineer and the manufacturer. You can't get better advice, or a better price. It's really that simple.
Food and Beverage conveyor systems? One word…